What is Kodi
It is an open-source media player software application developed by the XBMC Foundation, a non-profit technology consortium. Kodi is available for multiple operating systems and hardware platforms, with a software 10-foot user interface for use with televisions and remote controls.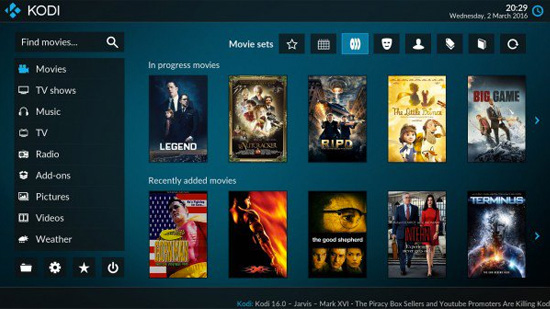 All Fire Sticks from Bleustream.com come with KODI installed for you, FREE!
What is KODI?
KODI is a free, open source, software media center. Users can configure the location of various media sources, which allows them to view TV, movies, pictures and listen to music through the device it's installed on. Whether the content is from your personal music or video library- or from other user created addons, KODI can integrate these sources into one media center for users to enjoy. KODI is like a media jukebox plugged into your television. Download the latest KODI app from the app store for Kodi on your phone and here for your PC or other device from the official Kodi Store.
Is Kodi Legal?
Yes. An official install of Kodi is 100% legal. By itself, KODI comes with no video content. That is up to the user to supply. That is also where the legal grey area begins. Kodi may give you the means to watch any video source you have access to. However, you are watching licensed content which you didn't purchase, then you are viewing pirated content. If you are viewing movies ripped from disk that you purchase, then you paid for the content. However, if you installed an addon that provides access to a bunch of Disney movies you didn't pay for, then someone is breaking the law.
What can KODI do?
KODI runs on devices connected to TVs. It allows you to pull streaming (Internet) content directly to your TV. Unlike the TV streamers that come bundled on devices like Apple TV, Chromecast 2 or Amazon Fire, KODI isn't limited by licensing or a curated app store, so it allows you to download a range of community-built apps, and watch whatever you like. Plus, Kodi's user-friendly interface makes browsing through your content simple. The software allows users to browse videos, photos and podcasts quickly and easily.
Legal Note: Please beware it is prohibited to use any product or software to access any copyrighted programing without the authorization of the service provider.