Media Access Device (MAD) Support
What is Media Access Device (MAD) Support? It's similar to an extended warranty offered by retailers, except it's much better because it covers more. Most of the similar plans will protect the device in it's original format and configuration, but if you make any changes like adding a third party apps for example, it will void the protection. MAD will cover all that, including the jailbroken devices and also support the third party software like Kodi, all for a small one-time fee. So if you already have a TV Stick this will work great for you. Includes support for all addon verions, in the line up, tvaddons, Fusion, Kodi applications (15.0, 16.1 Jarvis and 17.0, 17.1 and above. APK and other application support services included.
Which Devices Are Covered?
At this time we service Amazon Fire TV Stick but we are working on extending our coverage to Apple TV and Google Chrome Stick in the near future, so please stay tuned for more exciting offers from Bleustream! Here are the plans and prices: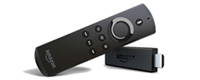 Watch ESPN and HBO Online with a Free Roku!
MAD Basic
MAD One
MAD Two
MAD Three
Price
FREE
$4.95
$9.95
$34.95
Access to Private
Member Section
Online Support
Phone Support
Hardware Support
Legal Note: Please beware it is prohibited to use any product or software to access any copyrighted programing without the authorization of the service provider.